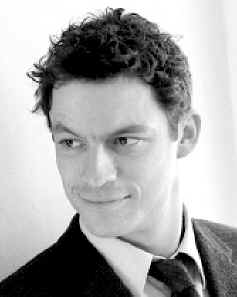 출처:
http://www.herald.ie/entertainment/around-town/dominic-west--has-swapped-baltimores--mean-streets-for--a-goatee-and-a--challenging-role--as-cromwell-finds-aisling-byrne-1540983.html
Dominic West only needs to open his mouth to unsettle an interviewer. He starred as Detective Jimmy McNulty in The Wire, an American series made by HBO and shown here on TG4 and Channel 6.
The show, set in Baltimore, Maryland, won a small but hugely loyal following, and Dominic's portrayal of the borderline-alcoholic policeman, complete with American-Irish accent, is utterly convincing.
Meeting him, you rather naively expect the same twang and cocksure attitude of McNulty.
Instead, you're greeted by a firm handshake and a cut-glass English accent.
"Pleased to meet you,'' he says with a big smile, knowing full well what has caused the confusion.
Dominic was born in Sheffield, South Yorkshire, and went on to attend Trinity College in Dublin.
His next role, the first since The Wire's fifth and final series finished recently, will be as Oliver Cromwell in Channel 4's English Civil War drama The Devil's Whore.
Cromwell, still unforgiven for his exploits here, is the man largely responsible for overthrowing the monarchy and turning England into a Republican Commonwealth in the 17th century.
"I've never tried anything like this before,'' says 39-year-old Dominic. "Cromwell is endlessly fascinating, and probably the most contentious man in English history.
"It's a role I came to with antipathy. My mum's an Irish Catholic and my wife's Irish -- she says I can't go to visit any more!''
After an early career in politics, Cromwell entered the English Civil War, a battle between the Royalists -- supporters of then-King Charles I -- and the Roundheads, or Parliamentarians.
Cromwell quickly rose through the ranks, eventually commanding the New Model Army against the King's forces, and finally, after Charles' execution in 1649, he ruled the newly-formed republic as Lord Protector Of England, Scotland And Ireland between 1653 and 1658.
"The more you find out about a character, there's a tendency to see the good in them, but I really don't know with Cromwell,'' explains Dominic. "He's probably the most astonishing leader the English ever had, and if he'd lived 10 years longer, he probably would have invaded France and Spain, and the British Empire would have happened 200 years earlier.
"That's not necessarily a great thing, but it's a measure of his attitude and thinking.
Thinker
"Other than his persecution of Catholics [Cromwell viciously opposed the Catholic Church, blaming it, among other things, for the harsh treatment of many Protestants in Europe] Cromwell was a modern thinker for his times.
"He was someone who was trying to control the radical parliaments that were cropping up,'' adds Dominic.
The four-part period drama isn't just a historical piece, though.
Alongside the political backdrop run timeless storylines of love, loss, murder and betrayal.
Angelica Fanshawe, played by Andrea Riseborough, is the eponymous character, and unlike Cromwell, and nearly all of the other characters in The Devil's Whore, is completely fictional.
Peter Capaldi, of The Thick Of It fame, puts in a suitably slimy performance as Charles I, while John Simm, Maxine Peake, Tom Goodman-Hill and Michael Fassbender, currently to be seen in Hunger as Bobby Sands, also star.
Filming took place during a three-month period in South Africa earlier this year. Unless you knew otherwise, there's no way you could tell the lush countryside in the series was anywhere other than England.
When Dominic took the job, however, he thought it was going to be filmed in Britain.
"When we filmed The Wire, I was in the US for six months a year for five years," he says.
"The show took up most of my 30s, and it was particularly hard being away from my daughter and then-girlfriend -- we're married now.
"I promised my daughter that when The Wire finished, I'd try to get work in England. So that's why I took a role playing Cromwell for Channel 4, I thought it was a safe bet.
"Then they told me we were filming in South Africa," he adds.
This time, Dominic's wife and daughter followed him out to the filming location, where, toward the end of the shoot, his wife had another child.
"I'd recommend the hospitals out there to anyone,'' he says. "A lot of Americans are going there now, because it's much cheaper than having a baby in the US.
"A lot of people take the mother-in-law with them too, and she has a facelift while they're out there!''
With that, Dominic scratches his head and pulls a large piece of glue off his scalp.
"I'm filming something at the moment, and wearing a wig,'' he says.
Whatever hairpiece he's wearing, it will have to go some to beat his appearance in The Devil's Whore.
The shoulder-length hair is artificial, but Dominic is particularly proud of the goatee beard he sports throughout the series.
"It took me months to grow that, so I was very reluctant to get rid of it,'' he says, stroking his now clean-shaven face.
EFFORT
"The director said to me, 'It's not really Cromwell, that goatee,' but I clung to it, and I think it was only afterwards I realised why I was clinging to it so much -- it was all that effort that it took to grow it!''
With a number of film roles under his belt already, prestigious stage work and numerous projects in the pipeline about which he currently can't tell the Herald anything, Dominic's transition from cult figure to bona-fide star is only a matter of time.
When The Wire was shown on TV it never got the audience it deserved, but thanks to good old-fashioned word-of-mouth, resulting in DVD sales, the show, often referred to by critics such as Screenwipe's Charlie Brooker and The Guardian's Gareth McLean as 'the best show of all time', should reach its rightful, sizeable audience.
Dominic concludes: "I don't think it'll ever have a mass, 24-style appeal, and I'm just used to no one watching it, but maybe in a year or two things will be different.
"In many ways, The Wire feels more alive now than when it was on.
"I get lots of love for that programme -- more so than ever before.''
The Devil's Whore begins on Channel 4 on Wednesday,
- Aisling Byrne


지난번 인터뷰엔 별말이 없더니 오랫동안 만나던 여친과 결혼했...(뭐냐 뭔지모를 이 서운함은?! - -;;)
두번째 아기까지 가지셨다니
조만간 행복한 가족사진도 보여주시길...

그나저나 ~~ 도미닉 어머님 이제그만 노염 푸셔요.
직업인걸 어쩌겠어요 다 먹고 살자고(?) 하는 일인데 ^^;;